A new take on a modern classic.
Revisited as a sister model to the eagerly anticipated reintroduction of the Mission 770 – a model which heralded the return to UK manufacturing for the Mission brand; the Mission 700 takes what was referred to as an 'industry benchmark, in the original 700 model, but utilises Mission's 45 years of evolution and development in loudspeaker design.
Led by Mission's Director of Acoustic Design, Peter Comeau, the new Mission 700 bears a striking aesthetic resemblance to the original. However, there are many complex innovations and improvements that bring this revered model bang up to date.
Cool retro looks married to modern materials and design.
As with the flagship 770, Mission has developed a new polypropylene bass/midrange driver and model-specific motor system. This transducer not only upgrades the loudspeaker's integral design to take account of modern power handling and dynamic requirements, but it also maintains the extended response and low colouration of the original model with all the hallmarks and distinction of a class-leading loudspeaker. From the rigid, cast chassis to low-density surround, every aspect has been revisited to offer a driver with improved rigidity and precision-controlled cone-termination for dynamic performances and offer tight, fast, energetic output.
The distinctive reflex port has been carefully profiled both internally and externally to achieve very low distortion and extension to below 38Hz in-room – quite an achievement from a cabinet of this size!
Employing a new lightweight, coated microfibre dome for the high-frequency driver, the Mission 700 replicates the flagship 770 with a specially damped rear chamber that offers super smooth treble performance, largely thanks to the resonance control offered by such a design.
The Mission 700 was a precursor for what would become a Mission standard in an unconventional driver array, something Mission refers to as 'Inverted Driver Geometry'. Not just a design statement, IDG is a staple of Misson loudspeaker design from the 700 onwards. By positioning the treble unit below the bass/midrange driver, the length of the path is equalised so the sound waves coincide at the listener's head height. This principle improves 'time alignment'. Such design requires more than just inverting the speaker cabinet. Every aspect of the industrial and mechanical design requires a precision calculation to ensure the positioning, spacing and alignment aids the objective of optimum 'time alignment'. This is perfected by an artisan-level crossover design.
And in the real World?
All this tech makes for a great spec. But the real test is in how these speakers perform.
We set them up in a couple of systems we know well. The 1st was a Naim Audio Uniti Nova all-in-one system. Streaming from Qobuz we were extremely pleased with the results. The speakers sounded open, relaxed and musical. There was lots of detail but the high frequencies were balanced and not bright or harsg. Bass was authentic too and was far from one-note.
Our pair had been used for approx. a hundred hours before we listened to them properly and by that time they were starting to sing. Imagine was extremely good, especially with a slight amount of toe-in. We had experimented a little with distance from the back wall and found the speakers relatively unfussy. We eventually settled for the speakers about 12" from the back wall and here they really did seem to "gel". One thing I would say is that the stands the speakers come with are perfect for the job. They're well made, rigid and the right height for the speaker.
Next up we used a Rega Aethos amplifier partnered with a Rega P8 record player and an Aria phono stage. The move to vinyl was rewarding with the Mission 700. We listened to some of the classic albums that tend to use for evaluating kit;

Steely Dan Gaucho
Jennifer Warnes Famous Blue Raincoat
Joe Cocker Sheffield Steel
Everything was well met and there was detail and musicality, again without harshness.
In Conclusion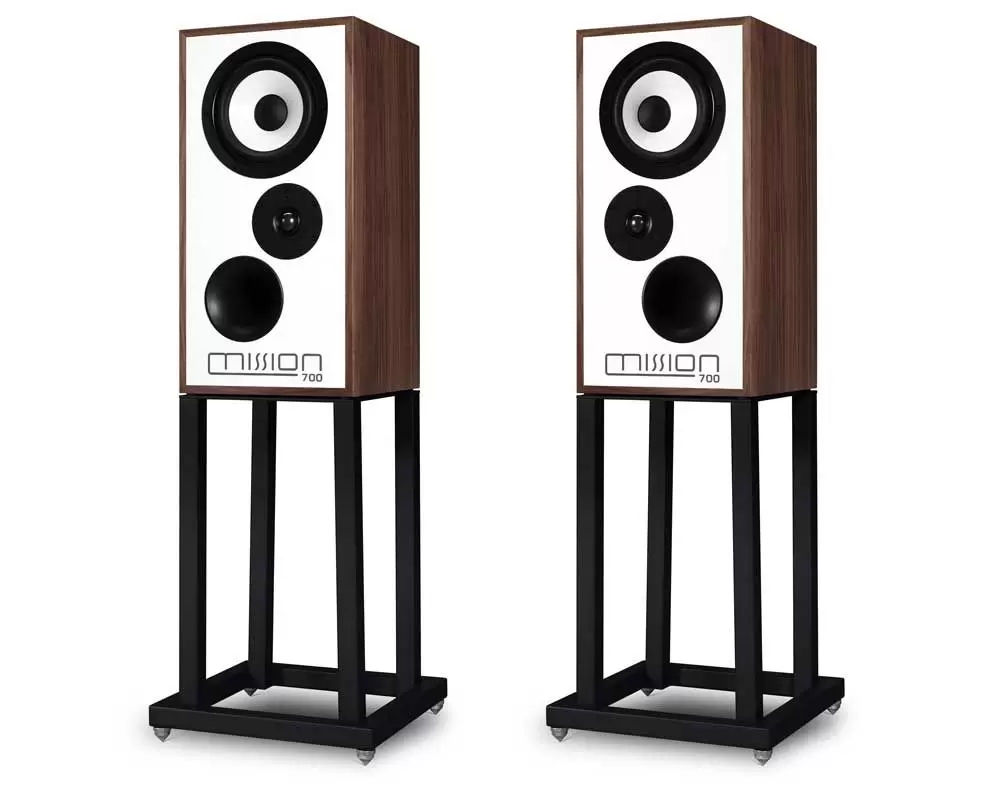 We think Mission are onto a winner with the 700. It ticks a lot of boxes and certainly isn't just another retro looking speaker. This old dog knows a few new tricks. Come and hear them for yourself.