Introduction and brief history of Cyrus
Cyrus Audio is an internationally acclaimed, high-end audio brand based in Cambridgeshire, England. Originally founded as the electronics offshoot of Mission Loudspeakers by Farad Azima in 1984 until separating into a standalone business in the early 90's.
The company has been at the forefront of the audio scene for nearly 40 years. Having launched the original Cyrus One amplifier back in 1984, it quickly established itself as a company providing outstanding quality for the most discerning of music-lovers, and it has been designing and manufacturing award winning audio products ever since. Cyrus is proud to be one of the few remaining independent British brands, with a range of integrated amps, CD players, power amps and power supplies continuing to be manufactured in the UK.
Its talented R&D team has been responsible for several industry firsts over the years, and it continues to push technological boundaries in pursuit of bringing a better music experience to its customers. The brand's key focus is on ensuring the emotional content of the music is captured, which is why listening to music on a Cyrus system is a truly engaging and uplifting experience. Cyrus has also gained a reputation for products that have a stylish, compact design and, because they can be upgraded, provide lifetime value for the customer.
Hello Jason and thanks for taking part. Tell us a little about yourself and how you got involved in the HiFi industry and describe your current role within Cyrus.
Hi Paul, absolute pleasure, thank you for asking me.
I have been the sales and training representative for Cyrus Audio for the past 4 years now and I am responsible for supporting our retailers along with the UK sales manager, with my role also focusing on training and public events.
The Hi-Fi industry is something I kind of fell into. I have always been involved in music since school, playing guitar in bands etc but I started to enjoy the recording/production side more than the playing. I went to college to study Music Technology which then continued through to university. In my third year of university, I took a year out and found a job working for Revolutions Studios in Cheadle under studio owner Andy Macpherson. For any Who fans out there, Andy remixed several of The Who albums in the early 90's. I started off basically as a runner, getting coffee, tidying up, setting up equipment etc and when I could, observe freelance engineers and get involved in recording sessions. I continued to work for Revolution throughout my final year of university and a few years after where I ended up becoming assistant engineer to Andy, working with local bands a few known ones; it was an exciting time. When Andy retired the studio closed and I struggled to find enough freelance work to keep me going. I saw a job advert for a HiFi sales assistant for Superfi in Stockport thinking this would tide me over until I could build up some more freelance work. I ended up falling in love with the job and the industry. I found myself doing less and less freelance work and have been in the industry ever since. I had a brief stint out of the industry, but realised how much I enjoyed working in the HiFi industry and was able to use the skills I'd gained there to help secure my role at Cyrus.
What does your day generally involve?

My day involves working closely with our retailer network to ensure they are up to date with all things Cyrus and support them in any way I can to help them fully represent the brand for us to achieve and implement our UK sales and marking strategies. I cover pretty much the west side of the country, from Aberdeen down to Swansea meaning quite a bit of time on the road.
I work closely with R&D and marketing putting together training material for our retailers on Cyrus equipment, keeping their knowledge fresh and up to date. I also host factory tours for our retailers to get further in-depth knowledge on the brand and to see the manufacturing process of our products. This is something we have started opening to the public through our retailers.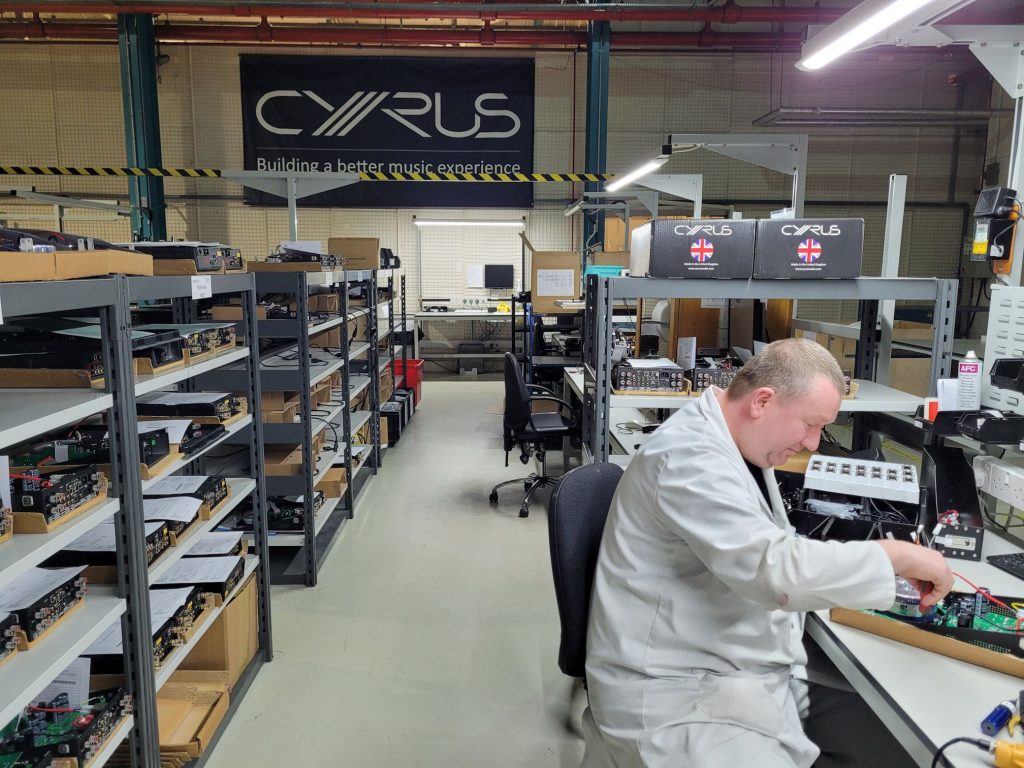 I also represent Cyrus at all dealer events and Hi-Fi shows talking about and demonstrating Cyrus products.
We've experienced ourselves the hard work you put in doing Cyrus events. What do you particularly enjoy about taking directly to the public?
I have a real passion for music and equipment; I just love talking to people that share the same passion and being around like-minded people. It's amazing that you can meet a stranger, but with this single common interest you can speak to them like you have known them for years. It creates connections, friendships, and interesting debates.
It's also great to work for a company that creates such amazing performing products and has a strong history. Being able to talk to someone who still owns an original Cyrus ONE and is enjoying it as much as the day they bought it is quite special. I also enjoy it in a demo when you can see people's reactions as they hear the difference from one model to another or by adding a power supply, It's always a look of amazement.
I feel lucky to be able to have a job that it also my interest/hobby and don't take that for granted.
We've been Cyrus stockists for almost 35 years. One of the things we love about the brand has been the fact that cosmetically it has retained its chassis size and appearance which offers customers a degree of security and brand recognition that is quite unique. Has that presented Cyrus with a disadvantage in any way?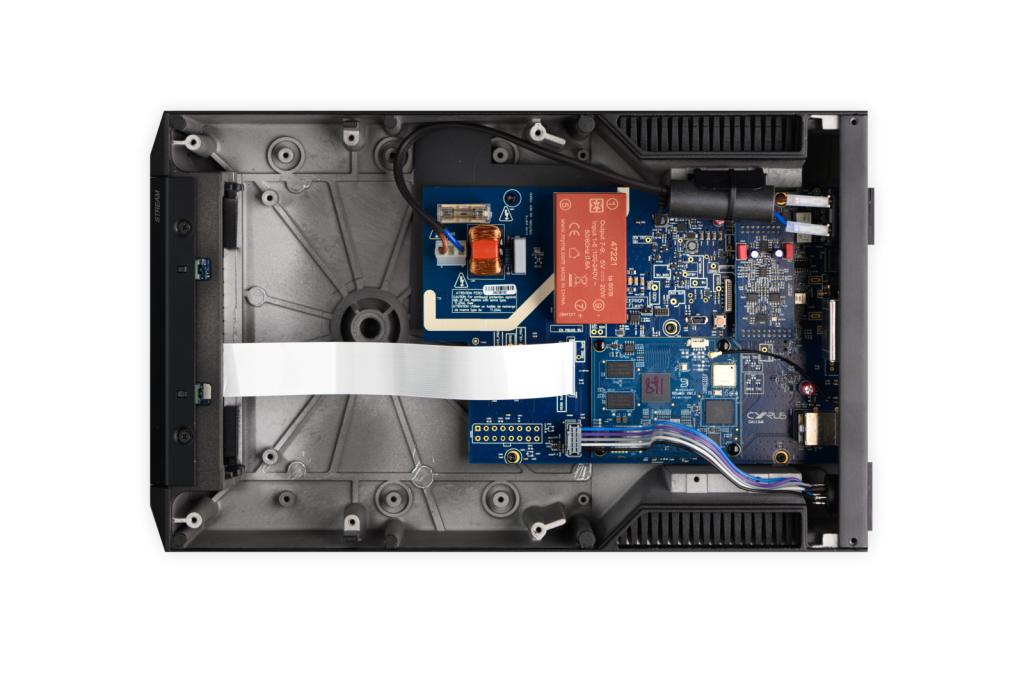 The Cyrus design has become somewhat iconic and is instantly recognisable, so it's hard to stray too far away from this format. The form factor does come with its challenges for our R&D department though. The main challenge is space. Our R&D department have to come up with innovative designs and really think creatively to achieve the high performance that our products deliver.
A great example of this is our chassis which we have used since 1993, it has gone through some tweaks over the years, but the fundamentals have always stayed the same.
Our chassis is made from aluminium through a process called die casting, die casting is a process where molten aluminium is injected into a mould under extreme pressure. This gives us a dense rigid case to build upon; if you ever get a chance to look on the underneath of our chassis you can see the mounting points for the PCB and the transformer are part of the design.
The aluminium alloy we use also works very well for heat dispersal. As many of you will know, the bi-product of any amplifier is heat and most full width amplifiers have two big heat sinks running either side of the power amp section, but because of the size and limited space of our design the heat sinks are built into the chassis.
Aluminium as a material is also non-magnetic and thermally efficient which gives a stable mechanical and electrical platform. Being non-ferrous also means that we can reduce the possibility of stray eddy currents moving across the chassis, helping us to control its radiated electromagnetic performance.
This is just one of many ways where our R&D have to be considerate of every little detail of the design, board layout, components, materials, even what type of screen we use is all down to getting the best sound possible from the product.
Tell us a little bit about how a digital company came to make such a superb phono stage as the Phono Signature?
I suppose with our reputation for creating award winning CD players and DAC's I can see how we might be perceived as a digital company, but Cyrus has enjoyed a long history with vinyl and has been designing phono stages since the beginning. Our original Cyrus ONE and TWO amps had a wonderful MM and MC phono stages built in and this carried through to Cyrus 3 which was the first amp using the chassis that we are still using today. After the Cyrus 3i we stopped putting built in phono stages in our amplifiers and launched our first separate phono stage, the aEQ7 back in 1998, which was replaced by the Phono X and then by the Phono Signature.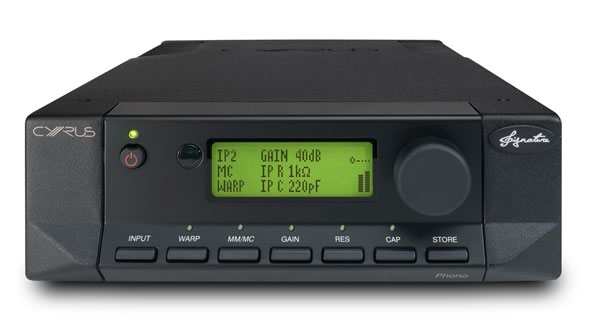 Designing DACS shares a lot of similarities when designing a great Phono stage as you're dealing with low level circuity. It is very dependent on the power supply design which, along with amplifier deign, has always been the main strength of our R&D department. With the Phono Signature, we deigned a phono stage with an incredible low noise floor, high versatility, and upgradability, making it the perfect phono stage for any system. The Phono Signature inspired design aspects of the XR range, utilizing relays for the input switching instead of using solid state switches for a cleaner signal path.
Vinyl will always have a place within the Cyrus product range, with all current amplifier models having built in MM phono stages, using designs from Phono signature. We also look to embrace Vinyl even more into the future with some very exciting things to come.
Cyrus recently moved part of their base of operations from Huntingdon to Nottingham. What has this meant for the company?
A few years ago, we entered a partnership agreement with one of our manufacturing partners Smart Made Simple (SMS). As part of the agreement SMS took over the complete manufacturing of our products, taking advantage of their modern manufacturing facility here in the UK. Our supplier relationships, component sourcing and supply chain management was also taken over by SMS, enabling us to take advantage of their superior purchasing power, logistics and procurement expertise, which really came into play during the high level of component shortages in COVID. We were fortunate to have stock and carry on building products while many in the industry struggled.
The partnership also gives us direct access to their state-of-the-art design and prototyping facility, which not only speeds up product development processes, but also shortens the production engineering and product testing phases, meaning a huge improvement in the time it takes us to get new products to market.
Our offices, R&D and service department are still based at the same Huntingdon site and this relationship allows us to put more time and resource into our R&D team and allows them to develop core technologies for a new generation of products that will continue to be manufactured here in the UK.
What do you see as the brands strongest points?

Cyrus has a great heritage, turning 40 next year and what comes along with that is a strong reputation for building high performing products and a loyal customer base. It's always nice speaking to customers who have been with the brand for years and the system journey they have been on.
As you mentioned earlier, our products are unique due to their form factor. We have been consistent and stuck with a small footprint design as it makes our products extremely practical in today's world of ever decreasing available living space, or for customers that do not want their Hi-Fi to dominate their room, without compromising on sonic performance.
At the heart of Cyrus, we have a talented R&D department who, over the years, have developed several unique technologies such as Servo Evolution that have kept our products ahead of our peers as well as continuing to push the sonic performance of our products and creating a better music experience for our customers.
We're pretty excited to get our hands on the two new Cyrus streamers later in the summer. Tell us a little about how Cyrus made the decision to use the Bluesound front end in their forthcoming streamers. Our customer are fans of Bluesound and they'd love to know how you have gone about adding your own experience and knowledge.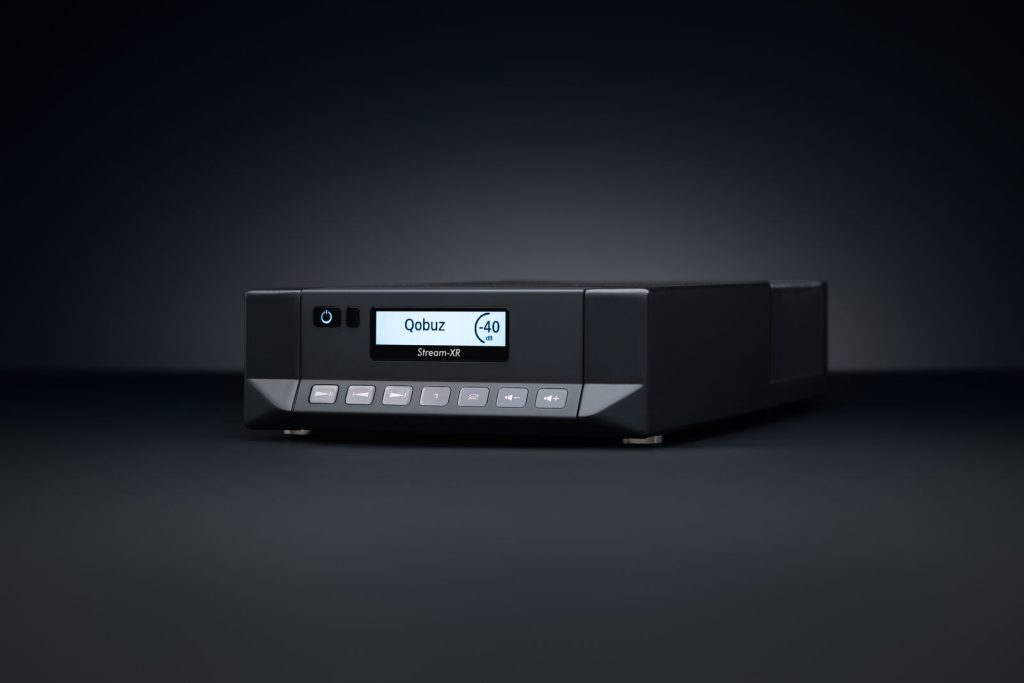 This is a product that I have been very excited to start showing and talking about. BluOS is one of the best streaming interfaces on the market. It supports a wide range of music services and hi-res formats. It has multiroom capabilities along with an interface that makes the product simple to set up and easy to use, so it was a no brainer to partner with them for our next generation of streamers. This, along Airplay 2 and being Roon Ready makes sure we are covering all bases on how people can stream their music. 
We have a strong reputation in designing DACs and power supplies and it's these decades of experience and knowledge we have put into our BluOS streamers. The DACS in the streamers are using our latest QXR designs, which are based around an ESS ES9038Q2M chipset. These DAC's have been designed with reducing as much noise as possible, which results in increased dynamic range. This, along with the ability to fully tune the DAC, results in a DAC which re-constructs the analogue signal with incredibly accuracy and precision. 
Along with highly specked power supplies within the products these can be further enhanced by adding the relative external power supply.
With our DAC and power supplies based around BluOS streaming module, it creates a range of streamers that offers incredible sound quality, versatility, usability, and upgradability. 
What equipment do you use at home?
I have a few systems around the home, with a couple ongoing projects.
In my kitchen I have Dali Phantom E-80 ceiling speakers being driven by a Cyrus ONE Cast and using Chord Leyline X speaker cable. I am a sucker for technology and use this mainly through Google home. I love the automation and voice control abilities, along with the power and control that ONE Cast offers, it works excellently in this space.
I am currently putting together a home cinema system in my lounge, which is an ongoing project. Home cinema is something the whole family enjoys, which is the main reason for going down this road. I first started by soundproofing and treating the room so we can enjoy it to its full potential. It will be a 5.1.2 Atmos system running Dali Phantom M375 inwall speakers for the front, Dali Phantom H-60 for the rear and Dali Phantom E-60 for the ceiling, an Arcam AVR30 will be doing the processing and to improve upon the amplification I will be running Cyrus power amps on every channel. I still need to get a subwoofer, which will probably be single or twin REL's and a Projector, which I am still undecided on. Cabling is from Chord, a mixture of Odyssey X and Rumour X speaker cable, Shawline subwoofer cable with AudioQuest Cinnamon HDMI.
In my home office I mainly use a Cyrus i9-XR. This is such a versatile amplifier with plenty of grunt and precision. I still need to source some speakers for this system and still deciding on what to get, but currently I use some Sennheiser HD600 headphones which I have owed for years. I also plan on putting a turntable in this system eventually, but that will be further down the road.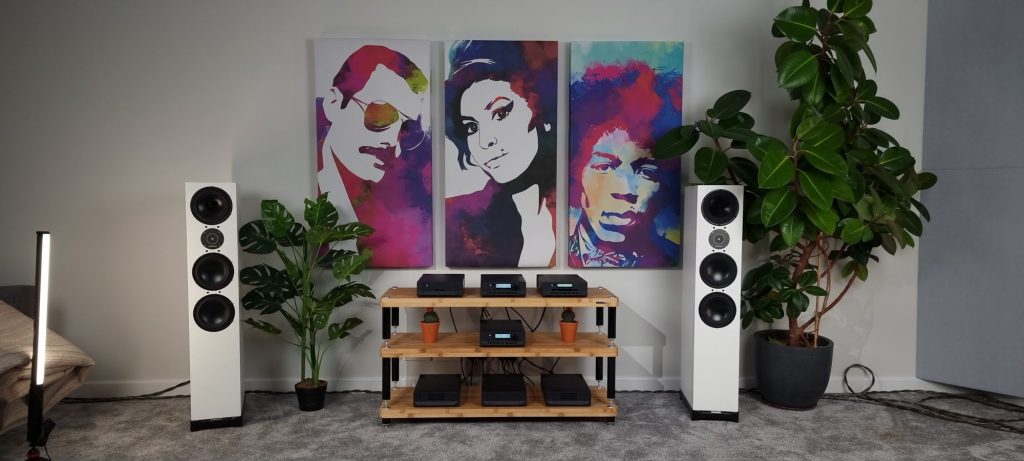 What was the 1st and last LP you bought?
The first record I bought was Peter Gabriel's So! album. This album is a classic and amazingly recorded and produced, there is not a bad track on there. I like how timeless Gabriel songs are and with a lot of music you can clearly tell the era through the instruments or production techniques, but this album still easily stacks up against modern recordings.
The last record I bought was the Smashing Pumpkins Mellon Collie and The Infinite Sadness Remastered reissue. I am a huge Pumpkins fan and think Billy Corgan is such an underrated guitarist. Easily one of the best bands I have seen live. This album takes you on a journey; it's one I especially like listening to from start to finish uninterrupted.
What was the last band you saw live?
The last band I saw live was a local band from Glossop called Rook and the Ravens. These guys really put on a show and grab you from the start, a real talent with some unbelievably tight harmonies. Definitely worth checking out their tracks online and catching live if you can.
Other than Cyrus what products do you particularly like and have time for and why?
I think we are in a great time in Hi-fi where there is so much wonderful and high performing kit about. I think the days are gone where you get a really bad product, it's just a matter of personal taste. There are a few brands though that have really grabbed my attention.
Dali is a brand I really like, as you probably guessed as I own them. Dali make a great range of speakers that are well priced, well made and sound phenomenal at every price point. Their new higher end speakers also look very impressive, and I can't wait to have a listen.
I have worked closely with Spendor and use their speakers a lot. They are really nice people to work with and make some classically modern looking speakers. The D7.2 are my favourite go to speakers whenever I do a demo. A modest sized speaker that performs like a much bigger one and produce a big revealing soundstage, especially when being powered by Cyrus.
With electronics my favourite at the moment is the Linn Klimax DSM. What a beautiful piece of kit that is cleverly designed. It has a classic look that will stand the test of time and a screen that won't date in years to come. I really like the modular approach that Linn takes too, great for upgradability. It is also a really well engineered piece of equipment with excellent use of materials.
My last item is a product that I have been following and managed to use a few times for demos over the years. It's a German speaker brand called Audio Physic. They are an innovative company, like us in many ways but their speakers just effortlessly disappear when listening to them and they deliver a huge soundstage which easily lets you create a picture of the band or artist you are listening to and forget you are listening to Hi-Fi System.
What can we expect from Cyrus in the future?
This is a subject that I can't delve too deep into unfortunately. This year we are focusing on completing the Classic and XR range with a small surprise product thrown in. We are launching our Cyrus streamers in August that runs on the BluOS platform, along with new power amps in September. Next year is our 40th Birthday and we plan to go big with some very exciting products that will surprise a lot of people.
Finally which direction do you see our industry taking in the future?

This is a hard question, if only we all had that magic glass ball. I think there are two sides to this, the retailer side, and the product side.
Within the Hi-Fi industry I think the bricks and motor retailer will always be needed, a place for a customer to demo a range of equipment and get unbiased truthful advice in a comfortable friendly environment is essential. Music and listening to music are a passion and I think people always like to buy from people who share that passion. The high street is no longer becoming the place for a Hi-Fi shop, instead destination stores with a boutique feel and space for parking are favoured to create an incredible and special instore experience. The internet and social media are also a powerful tool, especially the latter. You are already starting to see this, but as well as sales staff, content creators will become essential for a shop as well-produced, unique, informative material can be a big influence on where a customer purchases their equipment from.
On the products side, HiFi equipment and technology has always been determined by the format that is most popular and I see streaming will continue to grow and become more advanced. I think as households are becoming more automated, we also will see more traditional Hi-Fi products integrate this technology to easily allow music to be played seamlessly. There will still always be a place for the physical format, but this side will continue to be dominated by vinyl, I think.
This was brought up in a previous conversation post, but AI technology will play a huge part in the Hi-Fi industry as well as everywhere else. I believe we are only seeing the start of this technology and see it being a big part of the future, whether this is a good or bad thing is hard to say right now.
Sincere thanks to Jason for taking the time to share his experiences and his enthusiasm with us. Many of our customers have met Jason and know how dedicated he is.