Wall mounted option now available in D series.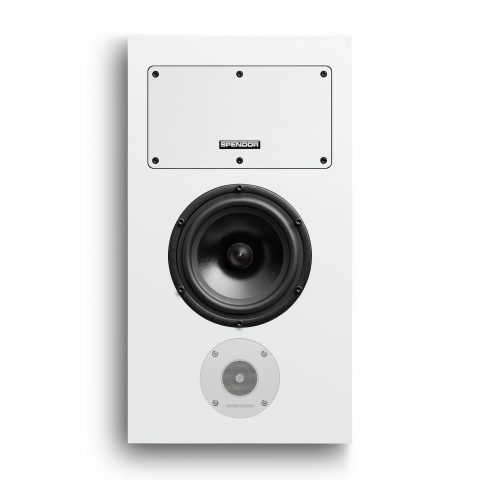 A sophisticated, compact 2-way, on-wall loudspeaker. The DS1 delivers music with exceptional resolution
and a vibrant realism for when conventional loudspeakers are not desired. It delivers low frequencies with power, scale and authority with a cabinet depth of 135mm. It is easy to place in real-world listening rooms, very capable, and compatible with all good amplifiers. With a short slim enclosure and smart modern finishes, the Spendor DS1 is entirely at home in any listening environment.
Available in white, walnut, oak, cherry and black

HIGHLIGHTS
A simple but ingenious wall mounting system
secures the DS1 to a flat surface, whilst
decoupling the back of the cabinet from
transferring any unwanted vibrations, which
greatly enhances sonic performance.
The proprietary 18cm Spendor EP77 polymer
cone mid-bass drive unit mounted in a slim
sophisticated cabinet, helps the DS1 deliver a
room filling sound with projection, character
and sheer entertainment far beyond its size.
With room friendly bass that is taut and
controlled, smooth midrange and an extended
treble, the DS1 delivers a big, full-bodied sound.
This allows the DS1 to be used for front channel
stereo duties as well as being a perfect surround
loudspeaker, offering 2.0, 2.1, 5.1, 6.1, 7.1 and
Dolby Atmos configurations to the Spendor
enthusiast.
Designed and Manufactured in the UK
Specification
Low voltage supply - Standby mode +5V DC
Low voltage supply - Operational +5V DC
Fixed voltage supply - Standby mode 0V
Fixed voltage supply - Operational +24V DC
Variable supply - Standby mode 0V
Variable supply - Regulated +10V to +45V DC
Variable supply - Unregulated +45V or +56V DC
Size (H x W x D) 75 x 215 x 355 mm (2.95" x 8.46" x 13.98")
Weight 7.7kg (17lbs)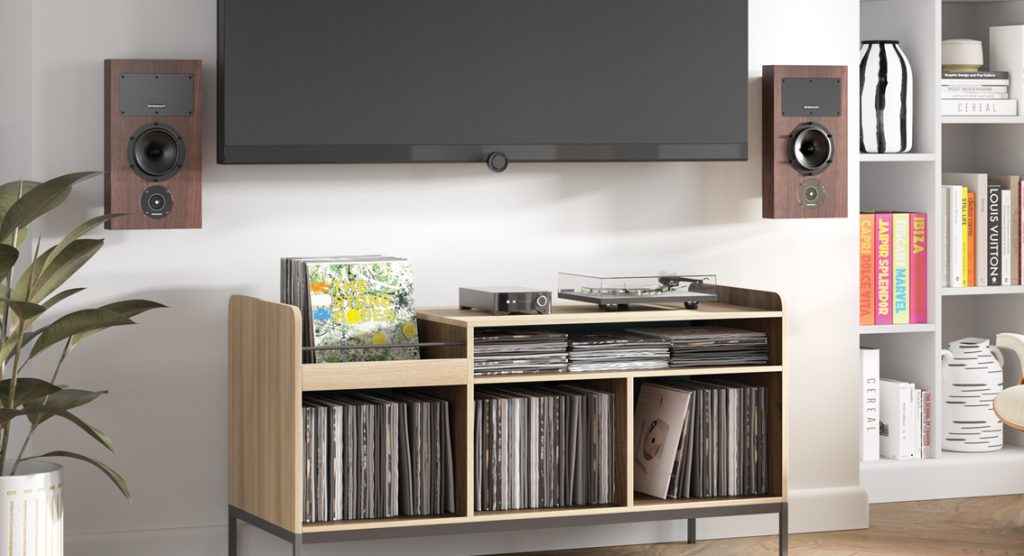 Description 2-way surround loudspeaker
Enclosure type Rigid, asymmetric braced, cabinet with
dynamic damping
Vent type Sealed box
Input connection Neutrik speakON connector
Typical in-room response 60Hz - 25kHz
Power handling 150 watts unclipped programme
Amplifier 25-100 watts
Sensitivity 86dB for 1 watt at 1 metre
Nominal impedance 8 ohms (min 5.8)
HF driver 22mm LPZ polyamide dome
Bass/mid driver 18cm EP77 polymer cone
Crossover frequency 3.8kHz
Net Weight 8.5kg
Height 500mm
Width 275mm
Depth 135mm
Finishes Black oak, walnut, oak, satin white, cherry
Accessories Magnetic grille, Neutrik speakON plug
and wall-mount fixings

This excellent and short video explains more about the D1

https://vimeo.com/806853064/7547c5bc25

On demo in May 2023.